Jesse Strafford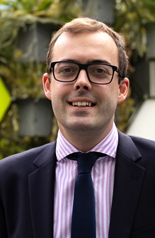 Qualifications
BSc
LLB
Enrolled barrister and solicitor of the High Court of New Zealand
Registered Patent Attorney, Australia and New Zealand
Expertise
Patents
Trade marks
Designs
Jesse is a Registered Patent Attorney in Australia and New Zealand and works with other professional staff drafting, filing and prosecuting patents in Australia and New Zealand, particularly in the pharmaceutical, agricultural and mechanical fields. His experience as a former Patent Examiner at the Intellectual Property Office of New Zealand is valuable, both when communicating issues to clients, and responding to office actions.
Jesse also works with the Henry Hughes trade mark team on matters in Australia and New Zealand. His trade mark work includes filing and prosecuting trade mark applications, and involvement with oppositions and other contentious matters as they arise.
Jesse takes particular interest in local early stage businesses in a variety of sectors and enjoys assisting them with gaining robust and appropriate intellectual property protection.
Jesse has a Bachelor of Laws from Victoria University of Wellington and is enrolled as a Barrister and Solicitor of the High Court of New Zealand. He also holds a Bachelor of Science majoring in Chemistry from Victoria University. He is a fellow of the New Zealand Institute of Patent Attorneys (NZIPA) and an organiser of the Wellington Young IP Professionals group.