Jesse Strafford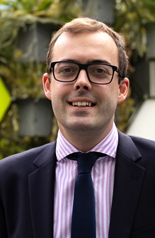 Qualifications
BSc
LLB
Enrolled barrister and solicitor of the High Court of New Zealand
Registered Patent Attorney, Australia and New Zealand
Expertise
Patents
Trade marks
Designs
Jesse is a Registered Patent Attorney in Australia and New Zealand and assists clients with a range of intellectual property matters across Australia, New Zealand and internationally.
Jesse has over 10 years' experience in the intellectual property industry and his previous experience includes working as a Patent Examiner at the Intellectual Property Office of New Zealand. 
Jesse's patent work involves drafting, filing and prosecuting patents in Australia and New Zealand, and working with international colleagues to protect clients' inventions across a range of industries including the pharmaceutical, healthcare, agricultural and mechanical fields.
Jesse also works on trade mark matters in Australia, New Zealand and internationally on behalf of a range of local and international clients. His trade mark work includes strategic advice, filing and prosecuting trade mark applications, and involvement with oppositions and other contentious matters as they arise including assisting with and appearing in hearings before IPONZ, IP Australia, and the Courts.  
In recognition of his achievements, Jesse was ranked as a Rising Star in Managing IP's IP STARS directory 2022 edition.   

Jesse takes particular interest in local early stage businesses in a variety of sectors and enjoys assisting them with gaining robust and appropriate intellectual property protection.
He is a fellow of the NZIPA (New Zealand Intellectual Property Attorneys Inc), a member of the Intellectual Property Society of Australia and New Zealand (IPSANZ), and an organiser of the Wellington Young IP Professionals group.